An Insider's Guide To Key West
Key West is an island in two worlds. There is the Key West seen by the thousands of visitors each week, mostly cruise passengers, who spend the afternoon wandering among the noisy bars of Duval Street before they buy a t-shirt and return to the ship. Then there is the other side: part small-town America, part tropical island, Key West life is uninhibited but still feels quaint, with proud local residents who fiercely protect their culture from the taming tendencies of the visiting masses. Ironically, the island's quirky personality is what initially attracted the cruise ship industry to the island, before the masses drowned Key West's personality in the crowds.
The key to success is to work the island like a local and live the life of those who know the island best. How can a visitor find those rumored hidden gems? Here are some suggestions for finding the "real" Key West experience.
1) For visitors who aren't arriving via cruise ships (or flights, or the ferry from Ft. Myers), the trip from Miami should last about 3 hours. Alas, it usually takes longer because of traffic snarls on US-1 south of Florida City. Try an alternate route: at the end of the Florida Turnpike, turn left on Card Sound Rd. and take a little-known bridge that connects to North Key Largo. From there, drive south to US-1, around all that pesky traffic. It's a great excuse to stop at
Alabama Jacks
, a roadside dive where the absence of walls means diners have great views of the nearby canal. Specialties are conch fritters, Key Lime pie, and beer; Saturdays and Sundays is clog dancing.
2) For your caffeine fix, skip the coffee house chains. You are 90 miles from Cuba! Try a
cafe con leche
, a sweet mix of milk and Cuban coffee made from a particular type of beans (anything else is just a latte) that give the flavor an extra-potent kick. Any of the little coffee windows at a Latino supermarket will serve the frothy deliciousness, or try it at Ana's Cuban Cafe (1222 White St., 305-296-4707): Look for the sign that says "The Best Coffee In Town."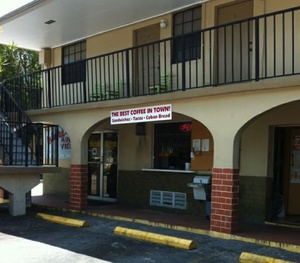 Ana doesn't lie.
3) People who come to Key West to enjoy "the beach" have obviously never been to Key West. The island is a deep-water port, which is great for docking your yacht or fishing boat, but the rocky shores don't have much sand. Sad, but true. However, for a few dollars admission per person,
Fort Zachary Taylor State Park
boasts a nice beach complete with a few spots for snorkeling and fishing.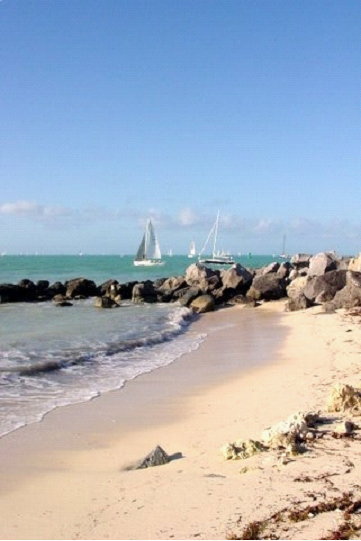 Photo courtesy of Fort Zachary Taylor
The park sits on the western tip of the island, so the sunset views are spectacular. (The beach closes once the sun goes down.) Just tread carefully, because there are still a few rocks in the water.
4) Speaking of sunsets: the hoi polloi congregate in Mallory Square to soak in the colors of the setting sun, as well as mingle around the rather unremarkable street performers. The same view comes with much better ambiance at
The Top
, the rooftop bar at landmark hotel La Concha. Besides the setting sun--
which is spectacular
--The Top has views of much of the island. Plus, everything looks nicer with a cocktail or two.
5) People in-the-know about Key West's best are singing the praises of
Fort Jefferson
, which was built approximately 70 miles west of the island but has never been used by the military. Its location atop a shallow reef makes for pretty good snorkeling, as well as general sight-seeing excitement for adventurous types willing to make the trip. Getting there is half the fun: take a 45-minute sea plane flight for an extraordinary experience, or buy a ticket on the
ferry
, although that takes two hours each way. Here's an idea: If you're with a group of friends, renting your own boat together won't cost much more than buying individual tickets on that ferry. It's not a long trip, thanks to the wonders of GPS, and you will get there much faster. However, the shallow reefs make the water treacherous, so it definitely isn't a trip for a novice sea captain.
6) Visitors in Key West during the months of January, February or March, are lucky to be in town the only months
Carriage Trade House
is open--and even then it is only lunch on weekdays, and dinner on Friday nights. Patrons line up outside to be led into the backyard where tables are scattered beneath the trees, and everyone is served the same entree. Take it or leave it, the days menu 's whatever the owners feel like cooking. Of course, you can bet on it being good--chops, pot roast, roast chicken, perhaps even meat loaf!--and you can bring your own alcohol if you wish. Eating at Carriage Trade House is a great way to meet one of the colorful longtime island locals who have been dining here for years. The day's menu is displayed outside, so visitors can walk by (529 Eaton St., (305) 296-2749) and see what's cooking. Don't like what you see? Go somewhere else, thanks.
7) After lunch, walk over a few blocks to the
Key West Cemetery
(701 Passover Lane), a fascinating (and sometimes funny) collection of final resting places dating back from the 1800's. Since this is Key West, even the dead
have a sense of humor.
8) If you make a lunch reservation for Latitudes, the restaurant off the coast at
Sunset Key Guest Cottages
, you can take the free ferry over to the island for the afternoon. Sunset Key has the best beaches anywhere around Key West, although technically access is only for the hotel's guests; but after you eat, you can (usually) enjoy the gorgeous sand without being harassed by staff.
9) Key West always runs at a slow pace, but Sundays especially drowsy. After you've laid around by the pool for a while, wander over to gay bar/drag showroom
801 Cabaret
(801 Duval St., 305-294-4737), and buy a card for Bingo at 5 p.m. The game is hosted by the effervescent Mitch Jones, who is a Key West event unto himself--as are the DIY costumes that he constructs anew each week (cataloged on
his Facebook page
).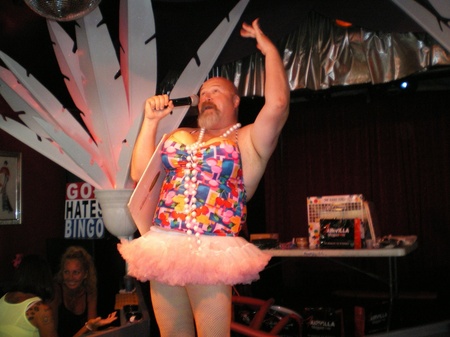 The event is a fundraiser for Key West community organizations, and it has raised hundreds of thousands of dollars over its 30 years of daubing. The crowd is a mix of tourists, gay and straight, as well as local residents who just want something to do while they drink during the day. Prizes are mostly of questionable taste (usually donated by one of the "adult novelties" stores in town), but have occasionally included plane tickets and other big ticket items. The star of the show, however, is Jones--whose heart is as big as his voice is loud.
Thanks to Key West resident Mark Watson for contributing to this post.
Follow Dan Renzi on Twitter: www.twitter.com/danrenzi
http://www.livingthedreamkeywest.blogspot.com/pinterest-f7ec3.html