If you've never been to the Green Parrot you have never fully experienced Key West.
In 1890, on the southeast corner of Southard and Whitehead streets, diagonally across from the Monroe County Courthouse, Anthony Sanchez opened a grocery store. And under its low-pitched roof, Cuban and Bahamian transplants accompanied their staples of rice and beans and plantanos with rum, cigars, and infectious Latin rhythms in the grocery's small back room, where local musicians created impromptu descargas or jam sessions, often playing late into the night.
THE BROWN DERBY
The Great Depression ended and World War II began and the grocery store became The Brown Derby Bar, a bunker-like, air-conditioned hangout for submarine sailors stationed at the base only a block away. Sailors from the 1950s and '60s still come into The Green Parrot, stunned that Key West has changed so much that they couldn't even find the Navy base. But once they stepped into the "old Brown Derby", it was as if they'd never left.
The Navy pulled out in the early 1970s and Key West became a haven for hippies, bikers, vagabonds, and free spirits of all kinds. With her finger to the wind and astutely taking note, Judy Sullivan transformed the Navy hangout into an open-air hipster watering hole. She re-named it The Green Parrot Bar.
THE GREEN PARROT
For every Navy customer who remained, it seemed there was a hippie, sailor or nomad on the next barstool. It became a place for travelers to rendezvous, to mingle with the bar's cast of eccentric local characters, and to perhaps glimpse a celebrity seeking refuge in its cool anonymity.
The next boom to hit Key West was the discovery of Key West Pink Shrimp. When the fleet was in, The Green Parrot morphed into a shit-kickin' fisherman's honky-tonk. Then came the "fishermen", who were more nefarious, armed with more cash, and laden with contraband from Jamaica and Colombia. But Key West would finally find its place as the only Caribbean city that Americans could reach by car. Bridges to the mainland got wider and bigger and tourism overflowed.
Jim Bean bought the Green Parrot Bar on his birthday in 1983 and, with his wife Linda, began a love affair with the local, sometimes rowdy corner saloon that would endure for nearly 30 years. The Parrot's rep was forged one act at a time, and not always on full nights when revelers spilled onto the sidewalk. It was the nights when every other seat in the house was filled. Maybe it was the music: real and raw onstage, the people's choice thumping from the juke box, whirring ceiling fans, the murmur of conversation, the sharp clack of pool balls, brilliant peals of laughter.
[Green Parrot]
THE MORE THINGS CHANGE, THE MORE THEY'LL STAY THE SAME…
2011 marked another year of change at The Parrot. After a close and successful 27-year relationship with Jim and Linda Bean, their partner John Vagnoni teamed up with Key West stalwart and Philadelphia entrepreneur
Pat Croce
.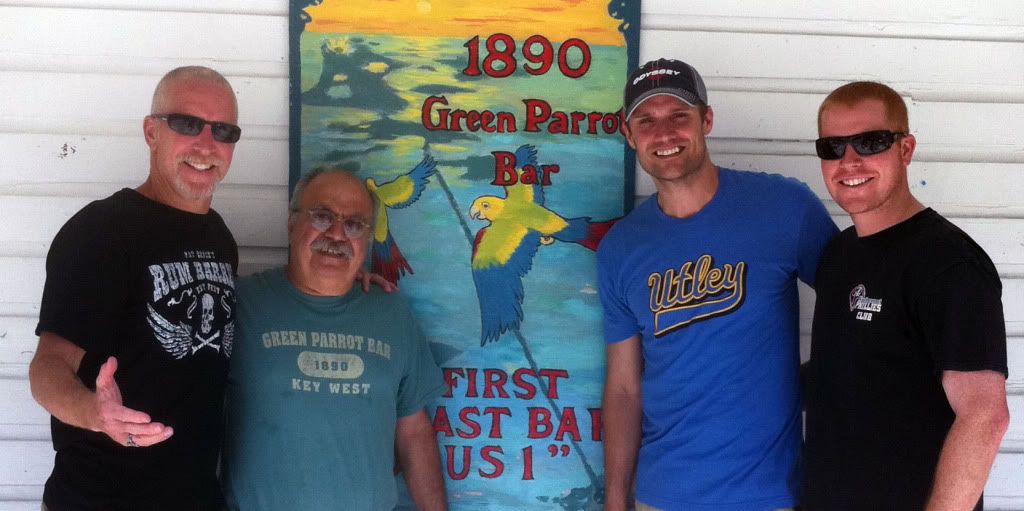 L-R: Pat Croce; managing partner and stalwart GM, John Vagnoni; Croce's son-in-law, Jeff Sorg; and Croce's son, Mike.
This what Bean left and what Croce so reverently inherited: the spirit, great music, a place to share a beverage or a thought, a place where anything is possible, anytime. A place where people tell their stories un-distracted, stripped of veneer, of pretense and of charade. A space to just be.
The Parrot is a jury of non-judging peers, a rugged and ragged council of friends. It is a place of hi-jinks and misadventures, of understated kindnesses, and everyday miracles. It has seen all manner of human exploits, from poetry slams to divorce celebrations, from memorial services to hurricane parties and pet birthday bashes, from tattoo contests to fundraising benefits.
The Green Parrot is more than a bar; it is a Key West icon; it
is
Key West. It has been so many things, to so many people, for so many years. And that spirit will never change.
For years I have been hanging out at the with my friends at the
Green Parrot Ukulele Association
meetings. Lots of loud singing off key and having plenty of beer and fellowship.
"The Green Parrot Ukulele Association was born one amazing night in June 2011 at the legendary Green Parrot Bar. Whether it's on a stage, in the parking lot of some bluegrass festival, or around the kitchen table, whether with friends, family, or strangers, (probably especially strangers), it's that circle and the seemingly primordial vibration of those strings that provides some kind of glue, some thread, that binds us all."
I received a very cute email recently from my friends at the Green Parrot bar in Key West. It said "When you come to Key West, you have to bring a ukulele". Ever since I have been on the hunt for one. I really just want to learn to play one song really well, then I will be "accomplished".
If you want to capture the essence of island living all you have to do hear the sweet melody of a ukulele.
One of my favorite tunes of all time is from Joe vs. The Volcano. It captures the soulful longing of my soul and makes me happy at the same time.
So, after much pondering, (and the advice of an expert from Hohner) I have decided on the Lanikai LU-21 Soprano. It has such a beautiful melodic tone.
I have little hands and very little strength in my fingers, so I have never been successful at playing the guitar, but I think this is going to be perfect for me! I'll be posting videos soon, wish me luck!